Cartoons
Galaxí
Galaxí is a progressive line of animated short films inspired by the Star Wars that were made between 2004 and 2009. Even some videogame heroes take action here. The series is a bit similar to
Star Wars Spoofs
, but we've got our own ways of storytelling.

Latest Galaxí Episode:
Rogue Katarn - A Star Wars Legend
Premiere: Jun 27, 2016
Who managed to steal the Death Star plans? Kyle Katarn! Who stopped the Dark Trooper Project? Kyle Katarn! Who can insult Mon Mothma without any incident? Kyle Katarn! Our latest episode of Galaxí will show you the truth ;)

Original Trailer
Premiere: Nov 11, 2003
Sneak Peek to the world of Galaxí. This old trailer contains some shots never used in any
Galaxí
episodes.

(opens in a new window)
(1,1 MB)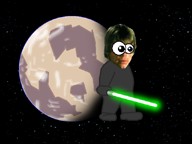 Galaxí: The Prequels
Premiere: November 21, 2013
All prequel episodes of
Galaxí
with new scenes and improved graphic.