Cartoons
Galaxí
Galaxí is a progressive line of animated short films inspired by the Star Wars that were made between 2004 and 2009. Even some videogame heroes take action here. The series is a bit similar to
Star Wars Spoofs
, but we've got our own ways of storytelling.

Original Trailer
Premiere: Nov 11, 2003
Sneak Peek to the world of Galaxí. This old trailer contains some shots never used in any
Galaxí
episodes.

(opens in a new window)
(1,1 MB)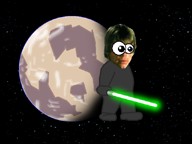 Galaxí: The Prequels
Premiere: November 21, 2013
All prequel episodes of
Galaxí
with new scenes and improved graphic.