Comics
Naptown 2015
Stories from Lego town called Naptown will introduce new friends you can't meet anywhere else.
It comes from hands of Icewalker, creator of the strip series
Shaggy Outkast
.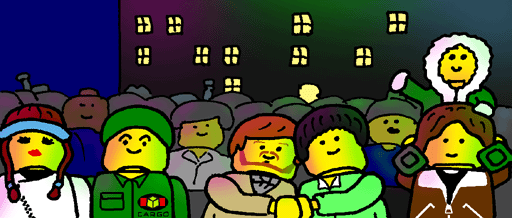 About our town:
2015 A.D. Whole Europe is occupied by Asians. Whole Europe? No! In central Europe, there's a rift in time and space from which various creatures spring from. Creatures that eastern nations are afraid of so they back off. Some vietnamese merchants that try their luck here doesn't have an easy living.
The rift also causes the year 2015 repeat perpetually. That's why nobody ages and the mayor doesn't need to worry about his mandate ending.

Voume 1
2 of 5 stories translated
First volume consists of
five stories released
between 2009 and 2011.
>> Read from start <<
Single stories:
1
The Speech
2
Dumb and Dumber
3
The Vagabond
4
Joey's Lucky Break
5
Transgo-go-got

Behind the scenes:
"
Naptown is known for it's racial intolerance, incompetent police forces and a great deal of single fathers. Mayor election is a mainstream entertainment going live on TV and to get yourself into prison or madhouse is as easy as to put your socks on. But these socks smell bad.
"
(Kubi-Wan)