Welcome to the official web pages of DallArt,
group of people from the Czech Republic who create animated and feature films in amateur way, especially Star Wars themed (more info at
contact
section).
There, you can download or stream these films, you can read various comics and find some other silly stuff. You can also seek the latest information on our unissued projects or share your impressions in our
guestbook
. Of course, you can follow us on YouTube or Facebook (links to the right).

Jan 5, 2016 - May 23, 2018
Baked at Joey's
Everyday life from young schoolboys' point of view is depicted in this brickfilm series that takes place in fictional town called Naptown.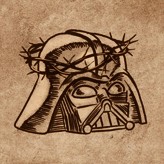 Rogue Katarn - A Star Wars Legend
Premiere: Jul 27, 2016
Who managed to steal the Death Star plans? Kyle Katarn! Who stopped the Dartk Trooper Project?
Kyle Katarn! Who can insult Mon Mothma without any incident? Kyle Katarn! Our latest episode of
Galaxí
will show you the truth ;)



Sep 4, 2015
Big Update!
Finally, we've found some time to update English version of our webpage. We added few posters for our upcoming
Revenge of the Sith
parody,
link for the latest webdoc and updated the content with stuff that was already released on YouTube, but couldn't be found here yet.


Sep 3, 2015
Naptown 2015
2009's comic stories from Lego town called Naptown are finally translated into English by our team-member
kernel32
. Read on!




Apr 6, 2015
Merry Christmas!
There's one animated piece again:
Palpatine's Christmas Carol
. Since we wanted to keep certain quality, we had to work on that till Easter. Now, you can join both silly and greedy Supreme Chancellor at his best.



Jun 18, 2013
Cartoons and Comics
The sections of
DallArt Web Pages
concerning our animated production and comics have been reestablished. There, you can find animated shorts called
Galaxí
, series based on
Revenge of the Sith
, few brickfilms, a comic strip series about videogame character Kyle Katarn and a little more.